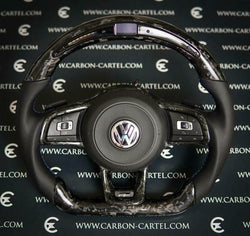 VW GOLF MK7.5 CUSTOM MADE STEERING WHEEL
VW GOLF MK7.5 CUSTOM MADE STEERING WHEEL 
Highlight Led Display: Speed, engine load, water temperature, voltage and etc..
Smart module: Long life without maintenance 
Nondestructive installation: Does not affect the normal use of airbag, buttons and other functions.
Genuine Perforated Leather:  + Modification + Hand sewing and processing. 
Texture: Perforated Leather is dedicated and smooth, soft and tough, which increases the feeling of comfort. 
Carbon Fiber material: UV - Coating, lightweight, high hardness, wear-resistant and comfortable. 
Non-slip and breathable: Comfortable, skid proof and breathable design to effectively avoid sweating and skidding.