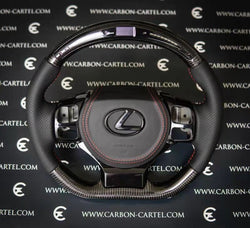 LEXUS IS 200T FSport 2017 Steering Wheel
*Choose from the options down below which customization you like the most, send us the picture of your actual steering wheel and the desired steering wheel as well  so we can match the shape of the wheel. If you have additional questions on the customization  please add in the note down below



Product Introduction

Our custom carbon fiber steering wheels crafted from high-quality materials, will give you the ultimate driving experience and pleasure.

Features

These custom steering wheels are modified versions of OEM steering wheels, which ensure a plug and play fitment by utilizing the best quality cores. Each steering wheel is individually custom handcrafted, comprising over 20 hours of labor to craft each perfect steering. 

 

Considering the production time in producing the custom carbon fiber steering wheels, we ask for your patience. Usually, it takes 3-4 weeks for you to receive the product.

 

True Performance

The core of the steering wrapped in extra thick padding, which provides a much aggressive feeling and better handling to the driver. 
The bottom side of the wheel is craft flattened for a racing look and better leg room. 
All stitching expertly stitched by hand.
Carbon fiber accents added to the following contours of the wheel
Fully customizable color of stitching, top strap, and carbon fiber. Griping material, and logo

What is inside The Package

Each kit includes one steering wheel, and steering wheel trim. 

 

NOTE: Our steering wheels do not include airbags unless you want 
*****Important Note For Customer Before Purchasing*****
1: If carbon fiber steering wheel comes with OEM multifunction buttons, they are included as complementary. 
*Buttons condition are variant, please transfer the OEM multifunction buttons from your steering wheel to complete the installation if needed. 
 Heated steering wheel function will be disabled on all of our carbon fiber steering wheel. But you if you want it reinstalled contact us directly.