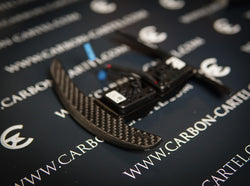 CARBON FIBER GLOSS PADDLE SHIFTERS REPLACEMENTS
Take your interior game to the next level with our pre-preg Carbon Fiber paddle shifters. Our shifters are 1-1 replacement of your original OEM Shifters, so no extra accessory, no glue or screw is required. You just take out the old set and put the new ones in.
What you'll get:
– 2 x Paddle shifters (Left and Right)
– Made out  Gloss Carbon fiber (Different Gloss Carbon Fiber colours available in options) 
– Available +/- in different  colors
– If you would like them in a special finish with any other car brand, you might consider reaching out via Instagram Dm or though contact us button so we can customize specifically to your car series, price will remain the same.